Pathway of the University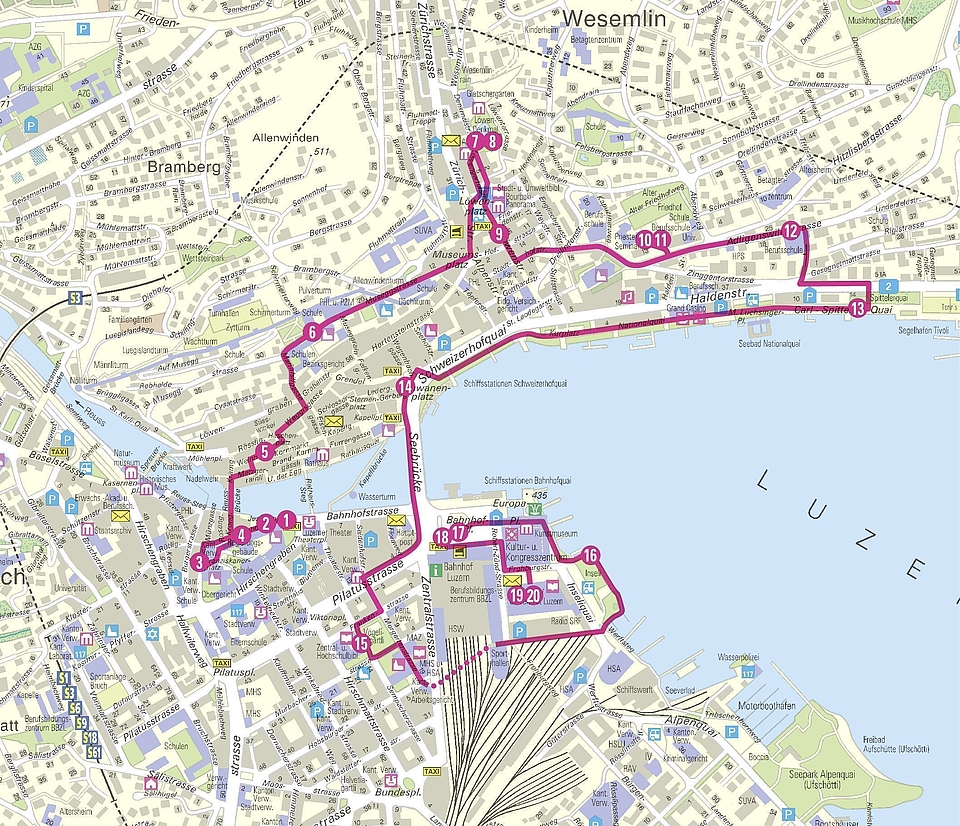 The themed tour trough the city of Lucerne with 20 stations is accompanied by a smartphone app. You can read the complete texts at the respective station or listen to them in the audio contribution.
You can expect interesting historical insights into the milestones of university education and research in Lucerne.
There is an information board at each station. The QR code on the board will take you directly to the website.
Download the bilingual app: iOS devices / Android devices
A map showing all stations is available at each station (location).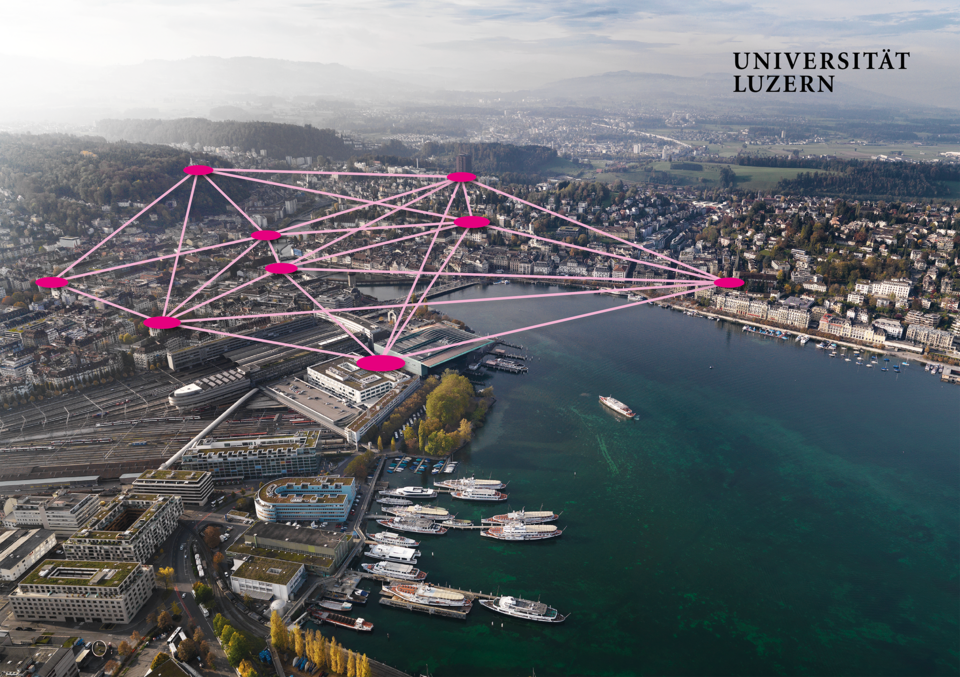 On voting Sunday, 21st May 2000, a clear majority of the sovereign in the Canton of Lucerne voted to establish an own university. For long, tertiary education had been considerably underdeveloped.
The University of Lucerne officially began teaching on 1st October 2000. Since then, the professors of its four faculties, the Department of Health Sciences and Medicine, the Graduate Academy and the Academy of Continuing Education, have successfully trained several thousand students who would otherwise have received their academic training elsewhere. The Alma Mater Lucernensis developed astonishingly quickly into a permanent feature of the university landscape. In autumn 2020, it was exactly 20 years since the youngest university in Switzerland opened its doors. This is a good time to look back on its equally fascinating and idiosyncratic founding history and to take stock of the past.
The idea to make the University of Lucerne's historical path tangible with 20 listening posts along a route through the city of Lucerne, stemmed from the Rector, Bruno Staffelbach. Markus Ries and the authors were commissioned to design the concept and write the texts. For culturally interested strollers, we tried to tell informative, and if possible surprising stories about people associated with education rather than a classic institutional history. Many thanks to the authors who each contributed a text with their expertise: Heidi Bossard-Borner, Hanns Fuchs, Peter Kamber, Manuel Menrath, Boris Previsic and Wolfgang Schatz.
Prof. Dr. Aram Mattioli, 21. Mai 2020
| | | |
| --- | --- | --- |
| Station | Period | Title |
| 1 | 2020 | Introduction |
| 2 | 16th century | The Jesuit Order in the age of religious division |
| 3 | 16th century | The foundation of the Jesuit College |
| 4 | 17th and 19th century | The Academy Projects of 1647 and 1847 |
| 5 | 18th century | Heresy in 18th century Lucerne |
| 6 | 1798-1803 | Popular education as an ideal of the Helvetic Republic |
| 7 | 19th century | Eduard Pfyffer – a small academy was the goal |
| 8 | 19th century | The two figureheads at the Lyceum |
| 9 | 1746/47 | A culture war |
| 10 | 1930ff | Stepping into the world of science |
| 11 | 1993 | The eventful founding years |
| 12 | 1919-1922 | The 'Universitas Benedictina Lucernensis' |
| 13 | 1893ff | Carl Spitteler the free spirit |
| 14 | 1978 | The university debacle of 1978 |
| 15 | 1774 until today | The world of books |
| 16 | 1841-1872/73 | Philipp Anton von Segesser |
| 17 | 1990-1999 | The awakening of the 1990s |
| 18 | 2000 | The sensational success of 21st May 2000 |
| 19 | 2011 until today | New UNI/PH building on Frohburgstrasse |
| 20 | 2000-2020 | The university of Lucerne – from its 'birth' to the present day |