BA in Economics and Management
The most important facts in brief
Facts & Figures
Degree
Bachelor of Arts in Economics and Management
Scope
180 ECTS credits (total of approximately 5,400 hours of work)
Focus

business administration, economics, methods, law

Language of instruction

Mainly German, occasionally English
Standard duration of study
6 semesters (full-time). Extension possible (part-time)
Registration
You can start the Bachelor's program either in the fall or in the spring. We recommend starting in the fall semester. Click here for registration.
Admission
See point II of the admission guidelines
Registration deadline

Fall semester: April 30, 2023
Spring semester: November 30, 2023
Dates for late registration

Commencement

Spring semester: February
Fall semester: September
The exact dates can be found here.

Tuition fees

CHF 810.- (nationals) / CHF 1'110.- (non-nationals)
Further information on fees
Study content
Economists deal with questions that are economically, socially and entrepreneurially relevant today and tomorrow:
Why do booms and recessions occur?
What factors determine the attractiveness of an industry and the positioning of a company?
Can a state go bankrupt?
Which business and marketing strategy suits which company?
Which HR measures are best suited to attract and develop talent?
Tomorrow's managers must be able to shape the markets of the future. A broad theoretical foundation in economics coupled with regular practical examples creates the best conditions for future success. Our award-winning faculty uses innovative teaching methods to provide students with skills to analyze, structure and solve even the biggest challenges facing organizations using modern methods in the field of Data Science. The latest scientific findings, high standards and practical relevance are combined in the courses. Through guest speakers from the field, case studies and close collaboration with organizations, we ensure a diverse, modern range of courses.
Study structure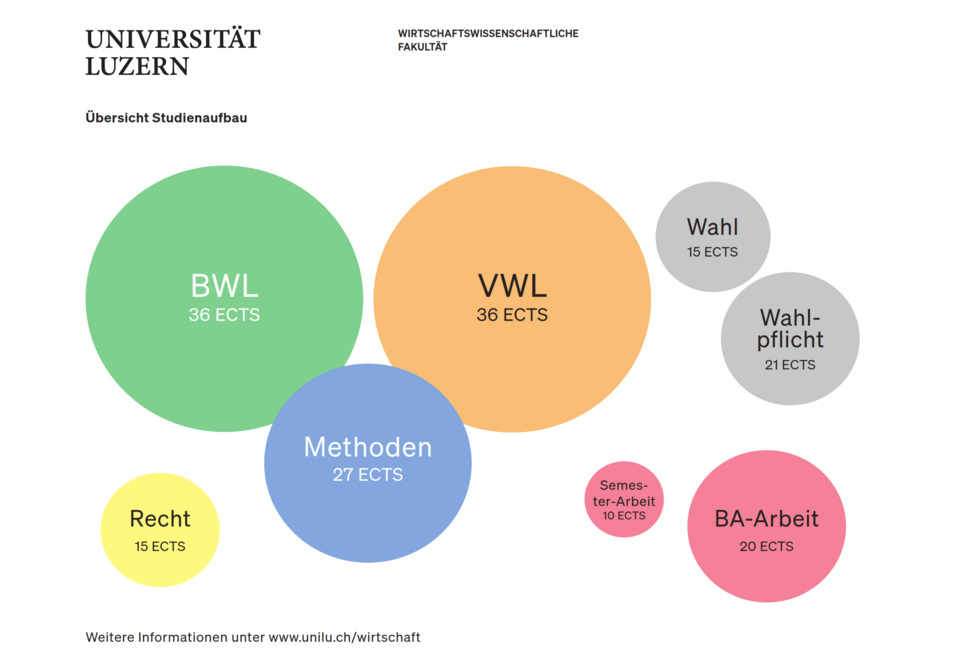 At the University of Lucerne you will acquire knowledge in business administration and economics in equal parts in order to deal with both sub-areas in a well-founded way. These are supplemented by methodology courses such as mathematics and statistics. In the jurisprudence courses, topics such as commercial law or commercial criminal law are dealt with.
In the compulsory elective area, courses within economics and in the elective area, courses from all faculties of the University of Lucerne can be freely selected.
The generalist Bachelor's degree programme thus provides a comprehensive understanding of economic mechanisms and business processes.
An overview of the courses in the BA Economics can be found in the sample curricula. Detailed descriptions of the courses can be found in the course catalog.
Why the University of Lucerne?
The broad-based degree programme (business administration, economics, methods, law) opens doors to all areas of the economy.
Through the continuous networking of these sub-areas, you will understand economic topics as a whole, which is the key to a successful career start.
Direct contact with the lecturers as well as interactive teaching formats enable targeted support, self-initiative and room for practice and discovery.
Complex topics are made comprehensible through application-oriented courses and strong practical relevance.
Take a look beyond your own nose and attend courses outside of business studies: from ethics to psychology to sociology, you will benefit from a broad and exciting range of courses.
Numerous partner universities open their doors for a semester abroad - your chance to gain new perspectives.
Sports courses, student organisations or the university choir perfectly round off your study time socially, culturally and athletically.
The numerous career services help you to network with potential employers while you are still studying, making it easier to start your career afterwards.
Theory & Practice
The University of Lucerne attaches particular importance to providing you with a broad and practice-oriented education. Therefore, the following additional offers have been created:
BUSINESS CHALLENGES
One Challenge - two winners: In our Business Challenges, organisations receive suggestions for solutions to their daily challenges. You learn to develop solutions for real problems and face the toughest jury: the real world.
Field report on the Eichhof Marketing Challenge
FIELD TRIPS
On a Field Trip, you leave your home university building and gain on-site insight into different companies. You get a feel for how the theory you have learned can be put into practice and can experience business processes first-hand.
Field Trip Report in Rwanda
CAREER EVENT
At the Career Event you take your first steps towards the professional world. In addition to workshops and offers on the topic of job applications, you can network with potential employers at the networking event.
Impressions of the Career Event 2023
STUDENT PARTICIPATION
Some students are given the opportunity to work directly at the university. Gaining your first work experience, directly applying what you have learned or climbing the stairs to the office after class are just some of the advantages of this job.
Your future prospects
With the broad content of your economics studies at the University of Lucerne, various doors are open to you, and experience shows that economics graduates are in high demand on the job market. Here is an excerpt from the list of companies that employ graduates of the University of Lucerne:
B. Braun Group
KPMG
Emmi Group
AMAG
SUVA
Siemens
PwC Switzerland
Beldona
There are also various fields of activity in federal and cantonal administrations, in international organizations, or with NGOs. Of course, you can also take the step into self-employment and start your own business. The Bachelor's degree also provides an ideal basis for the Master's degree in Economics at the University of Lucerne or for further studies in other national or international Master's programs.
Learn more
Information event
Would you like to get a personal impression of the university? Then take part in our on-site info events. In addition to first-hand information, our professors will be available to answer your questions during the aperitif afterwards. This guarantees that no question will remain unanswered. The information events for the Bachelor's and Master's programs take place twice a year. Click here for an overview.
In the meantime, you can already stream the information event from March 29, 2023:
Taster lectures
Are you wondering what economic policy or strategic management is all about? Or how our professors lecture? Just visit one of our lectures. Please contact our student advisory service. They will also be happy to answer any other questions you may have about studying economics.
This might also interest you