University and family
Maternity and paternity leave
University of Lucerne employees are governed by the Canton of Lucerne regulations. For more information, contact the University of Lucerne Human Resources department.
Please note that University of Lucerne employees are not considered cantonal administrative staff and thus are not entitled to day care contributions by the cantonal administration. The University of Lucerne runs its own day care.
Those in SNSF-funded positions can apply to the responsible SNSF office for a project extension with corresponding extension of their employment (see section 6.4.7, General implementation rules for the funding regulations, version dated 01/07/2014). Information is available directly from SNSF.
Familiy income supplement
The family income supplement includes the birth-, adoption-, children- and education-supplement. You will find more information on the website of the
kantonale Ausgleichskasse
or at the HR.
Breastfeeding
Since 1 June 2014, mothers who breastfeed or pump milk during working hours have this time included in their working hours during the first year of the child's life, calculated as follows:
a. Daily working hours of to 4 hours: minimum 30 minutes;
b. Daily working hours of more than 4 hours: minimum 60 minutes;
c. Daily working hours of more than 7 hours: minimum 90 minutes.
University of Lucerne employees can use the rest rooms on the third and fourth floors for breastfeeding. If you would like somewhere to pump milk undisturbed, the Office of Equal Opportunity will help you find a suitable room.
· ArGV Working hours and breastfeeding in pregnancy and motherhood (in German)
· Seco work and health leaflet – pregnancy, birth, breastfeeding (in German)

Are you moving to Lucerne with your family for studies or a position at the university?
The Welcome Centre website will answer many of your questions regarding the process.
The Office of Equal Opportunity staff would be happy to answer any further questions.
The university Equal Opportunity Committee has a fund which can also provide financial means for successfully migrating with your family.
Are you struggling with arranging child care during 12 weeks of school holidays?
From 13. - 17. July 2020, the Office for Equal Opportunity is going to organise another week of holiday activities for school-aged children. The offer is open for children of staff members and students of the University. More Information in German or by phone at the Office for Equal Opportunity.
The joint day care for the universities of Lucerne
Day care places are available to University of Lucerne students and employees for children aged 3 months to 5 years. Information on the day care centre is available from the "Kita Campus" website (in German), and manager Cornelia Glenz would be happy to answer any questions you may have.
Contact
Cornelia Glenz
Kita Campus
Museggstrasse 21
6004 Luzern
+41 (0)41 228 72 40
cornelia.glenz@kita-campus.ch
https://kita-campus.ch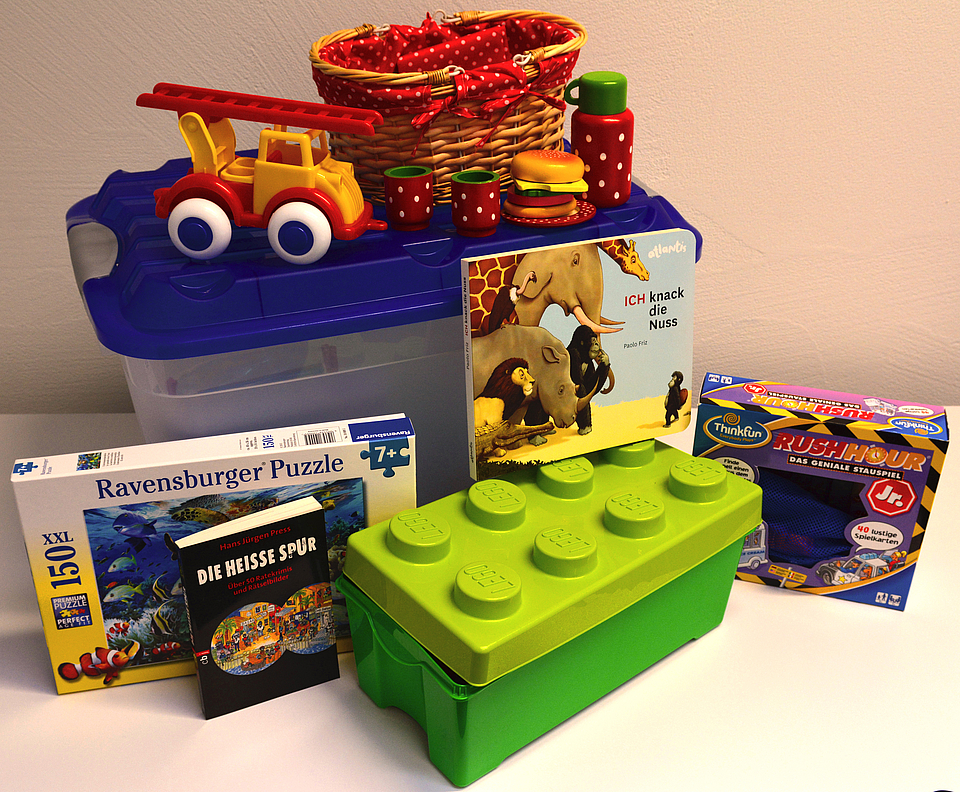 There are many reasons why parents might have to bring their children to work in an emergency. To make these occasions more pleasant for both parents and children, the Office of Equal Opportunity offers mobile toy chests. These contain age-appropriate materials to occupy children and can be borrowed free of charge from the Office of Equal Opportunity. They can also be booked in advance.
There are three chests containing toys suitable for small children (1-3 years), children aged 4-7 and older children respectively. If desired, a chest can also be supplemented with materials from a different chest.
Borrowing conditions
This service is designed for University of Lucerne employees. The toy chests can be borrowed from the Office of Equal Opportunity. If there is no-one in the office, please contact Hanna Wicki in the Academic Services secretary's office.
The chests are only available for borrowing Monday to Friday 9 a.m. to 5 p.m. The maximum borrowing period is one day.
Please check against the inventory list that all contents are present before and after borrowing.
In the event of any loss or damage, please inform the Office of Equal Opportunity.
The loan will be documented using the borrowing log.
Contact
Office of Equal Opportunity, Office 3.A24
Telephone: 041 229 51 40 / 41
E-mail: chancengleichheit@unilu.ch
If Office of Equal Opportunity is empty:
Hanna Wicki, Academic Services secretary, Office 4. A36
Telephone: 041 229 50 03
E-mail: hanna.wicki@unilu.ch
Nappy-changing tables are available in the toilet areas on the ground (the key is available at the reception) and first floors.
The canteen has high chairs for use. The room next to the canteen contains microwaves for heating baby food.
The employees of the University of Lucerne can use for breast feeding the rooms of quietness in the third and fourth floor. You can make a reservation for the room of quietness in the fourth floor, if you need a undisturbed room. Please use the reservation-sign, which you will find in the room. It is also possible to store the breast milk in the fridge in the common rooms (pleas lable it).