«Hans Küng – Weltethos Lecture» mit Dr. Thania Paffenholz
Öffentlicher Vortrag und Diskussion mit Dr. Thania Paffenholz in Zusammenarbeit mit der Stiftung Weltethos Schweiz, dem Ökumenischen Institut Luzern und dem Institut für Sozialethik ISE.
| | |
| --- | --- |
| Date: | 27th November 2023 |
| Time: | 18.15 h to 19.45 h |
| Location: | Universität Luzern, Hörsaal 1 (Frohburgstrasse 3) |
This content is only available in German.
Ursachen gewaltsamer internationaler Konflikte: Was muss eine nachhaltige Friedenspolitik leisten?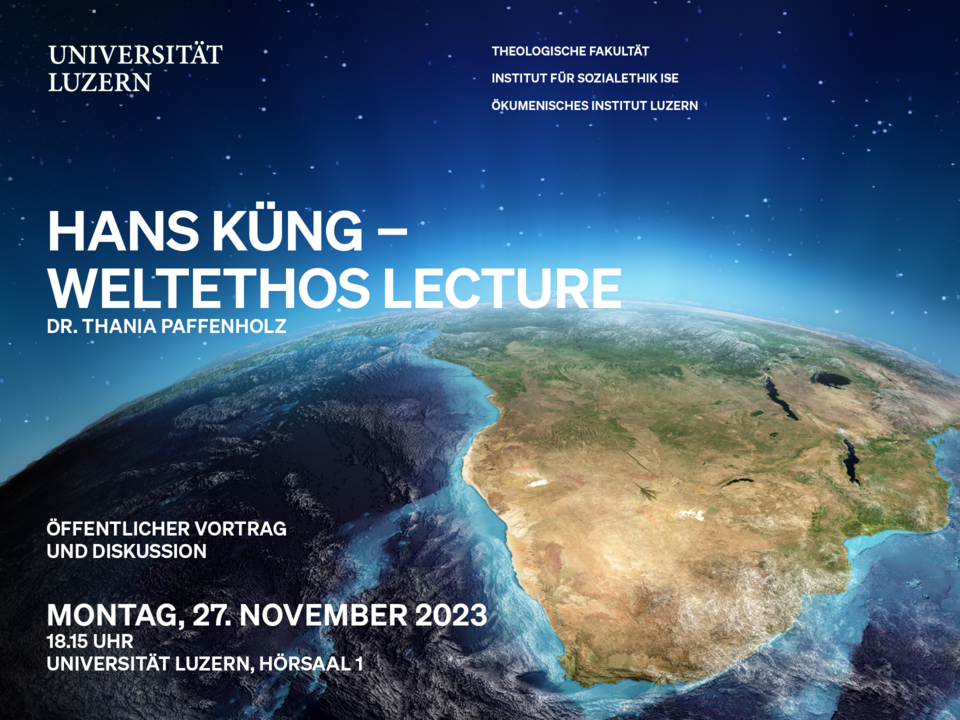 Eine nachhaltige Friedenspolitik anerkennt, dass Friedensprozesse nicht linear von Friedensverhandlungen über Friedensabkommen und deren Implementierung verlaufen, sondern ein permanentes Neuverhandeln des sozialen und politischen Vertrags in unterschiedlichsten Formaten und Räumen umfassen – sowohl in aktuell friedlichen als auch von Konflikt betroffenen Regionen. Nachhaltige Friedenspolitik unterstützt diese ständigen Verhandlungen als kritische Beobachterin im Hintergrund und gibt den involvierten Akteur*innen die notwendige Zeit sowie kontextspezifische Unterstützung, um die Grundlagen für Frieden laufend neu zu schaffen. Sie fördert darüber hinaus ein intersektionales Verständnis von Inklusion. Und nicht zuletzt zielt nachhaltige Friedenspolitik darauf ab, dass verschiedenste Akteur*innen aktiv an Friedensprozessen teilnehmen und diese substantiell beeinflussen.

Dr. Thania Paffenholz, Direktorin von «Inclusive Peace», einem Think & Do Tank für Friedensprozesse und politischen Wandel, unterstützt nationale und internationale Akteur*innen darin, Friedensprozesse effektiver und nachhaltiger zu gestalten. Seit über 30 Jahren fördert sie als Wissenschaftlerin kritische Diskussionen, verknüpft Prozesse im Land mit globalen politischen Debatten und ist als Beraterin für Politik und Praxis tätig.
Die Stiftung Weltethos Schweiz, das Ökumenische Institut Luzern und das Institut für Sozialethik ISE freuen sich sehr, dass Dr. Thania Paffenholz die zweite «Hans Küng – Weltethos Lecture, in diesem Jahr im Bereich Friedensethik, hält. Sie sind herzlich zu dieser Veranstaltung mit anschliessendem Apéro eingeladen!
Referentin
Dr. Thania Paffenholz, Direktorin von «Inclusive Peace»
Geboren im Februar 1965 in Köln, Deutschland
Engagement im Bereich des Transfers zwischen Forschung und Politik. In Anerkennung ihrer umfassenden Arbeit erhielt Dr. Thania Paffenholz 2015 den renommierten «Wihuri International Prize»
Senior Fellow am «Center on Conflict, Development and Peacebuilding (CCDP)» am Graduate Institute, Genf
Promotion in Internationalen Beziehungen mit Schwerpunkt Mediation und Konflikttransformation
Veröffentlichung zahlreicher einflussreicher Publikationen, darunter zwei Bücher: «Civil Society and Peacebuilding: A Critical Assessment» (2010) und «Peacebuilding: A Field Guide» (2000) sowie die Studie «Making Women Count» (2015)
Programm & Anmeldung
18.15 Uhr

Begrüssung

Dr. Odilo Noti, Präsident Stiftung Weltethos Schweiz
Prof. Dr. Nicola Ottiger, Professorin für Ökumenische Theologie und Leiterin des Ökumenischen Instituts Luzern
Prof. Dr. Peter G. Kirchschläger, Ordinarius für Theologische Ethik und Leiter des Instituts für Sozialethik ISE

18.30 Uhr

Vortrag von Dr. Thania Paffenholz mit anschliessender Diskussion

19.45 Uhr

Einladung zum Apéro

Die Veranstaltung ist öffentlich und kostenlos.
Die Anmeldung ist möglich bis 27.11.2023 (erwünscht per E-Mail an ise@unilu.ch oder via Online-Formular).
Flyer
«Hans Küng – Weltethos Lecture» an der Universität Luzern
In Zusammenarbeit mit der Stiftung Weltethos Schweiz laden das Ökumenische Institut Luzern und das Institut für Sozialethik ISE der Theologischen Fakultät der Universität Luzern jährlich zu einer öffentlichen «Hans Küng-Weltethos Lecture» ein. Die Vorlesungsreihe diskutiert und entwickelt das von Hans Küng gegründete Projekt «Weltethos» weiter.

Nach der Auftaktvorlesung 2022 orientiert sich die «Hans Küng-Weltethos Lecture» in den nächsten Jahren an den Verpflichtungen des Projekts Weltethos, wie sie in der Erklärung zum Weltethos des Parlaments der Weltreligionen dokumentiert sind:
Friedensethik
Wirtschaftsethik
Verpflichtung zu Toleranz und Wahrhaftigkeit
Gleichberechtigung, Geschlechtergerechtigkeit
Nachhaltigkeit