For One Day Only: Law, Space, Matter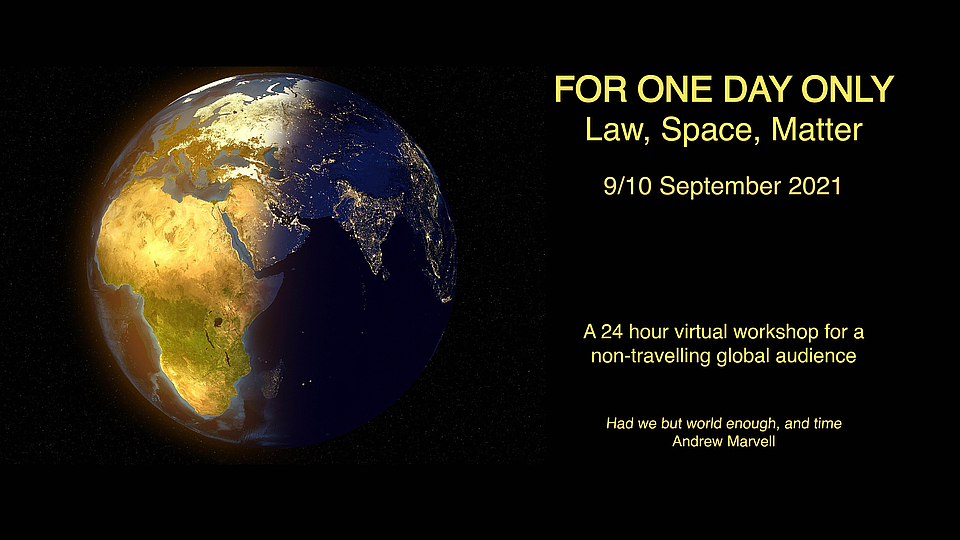 Programme
The 24-hour virtual workshop For One Day Only: Law, Space, Matter took place on 9 & 10 September 2021.
The full programme, complete with workshop descriptions, is available here.
To view recordings of the workshop sessions, please follow the links below.
Market/Place: A Funny Thing Happened on the Way to the Forum
Hosted by the Centre for Law, Arts and Humanities, The Australian National University
Speakers: Margaret Davies, Chris Griffiths, Desmond Manderson
Law, Politics and Emptiness (no recording available)
Hosted by the Faculty of Law, University of Helsinki
Speakers: Panu Minkkinen, Dorota Gozdecka
Algorithms and the End(s) of Law
Hosted by the Faculty of Law, University of Roma Tre
Speakers: Emanuele Conte, Fiona Macmillan, Teresa Numerico
Hosted by the Institute for Interdisciplinary Legal Studies - lucernaiuris, University of Lucerne
Speakers: Carey Young, Desmond Manderson, Steven Howe
Immunity and Quarantine: The Biopolitics of Space-Making in Pandemics
Hosted by the Institute of the Humanities and Global Cultures, University of Virginia & Wits Institute for Social and Economic Research, University of Witwatersrand
Speakers: Sarah Nuttall, Ranjana Khanna, Debjani Ganguly
In and Out of Place (recording to follow)
Hosted by the Institute for International Law and the Humanities, University of Melbourne
Speakers: Shaun McVeigh, Jo Commins, Alex Dela Cruz, Caitlin Murphy, Danish Sheikh, Valeria Vazquez Guevara
Contact
For all enquiries about the event, or about the Critical Times project, please contact Steven Howe (steven.howe@unilu.ch).